WANO Communications Workshop in Paks
A WANO communications workshop called "New Challenges in Nuclear Communications" was held in Paks in Erzsébet Grand Hotel between 13-17 November 2018, which was organized jointly by MVM Paks Nuclear Power Plant Ltd. and Paks II. Ltd. At the event, professionals from about a dozen countries have discussed new methods and challenges in nuclear communication.
István Lenkei, Chief Executive Officer of Paks II. greeted the attendees at the conference, after which Ferenc Leber, Director of the CEO's Administration spoke about the Hungarian electricity system, the new reactor type and described its main safety features. On the first day Dr. Attila Hugyecz, chief economic consultant also held a lecture, in which he presented the national and EU approval process of the planned nuclear power plant.
The Paks II. interactive truck was stationed at Paks for a day during the workshop. In the framework of the workshop, in the form of an irregular lecture on behalf of the company, Balázs Szeri, senior communications expert held a presentation called "New communication channels – presentation of the information truck of Paks II. Ltd." in the interactive information truck, after which the participants could visit the information vehicle.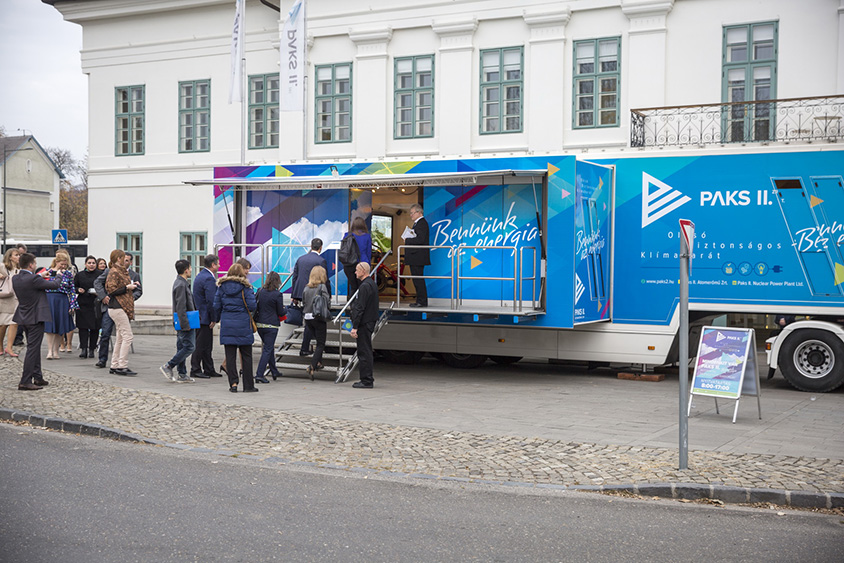 On the event's closing day, Ágnes Mittly lead communications expert gave a presentation about the internal communication of Paks II. its, its challenges and the related plans, and after the presentation, the attendees shared their experiences and ideas in this area.
During the communications workshop, many opportunities for international exchange of experiences have been made through a wide spectrum of topics ranging from internal communication to the role of social media.