The Paks II. truck starts its festival roundtrip again
The mobile exhibition displaying nuclear energy and Paks II. project awaits the interested at eight summer festivals in 2019 as well with interactive programs, rest and relaxation and various games.
The interactive truck of Paks II. awaits the audience of music and cultural festivals of the summer, the first opportunity the visit the exhibition will be the VOLT festival in Sopron between 26-29 June. The truck is going to attend Balaton Sound in Zamárdi (3-7 July), EFOTT in Velence (9-14 July) and Campus festival in Debrecen (17-21 July). The next station will be East Fest in Mezőtúr (23-27 July), then Sziget (7-13 August), the Debrecen Flower Carnival (17-20 August) and SZIN in Szeged (28-31 August).

The mobile exhibition of Paks II. Ltd. "brings home" the most important information about the safe and climate friendly use of nuclear energy, the important role of the Paks NPP in the domestic energy production, and the construction of the new Paks NPP units in a modern, interactive way. One of the specialities of the exhibit is an AR (augmented reality) app, the guests can use one of the tablets or their own smart devices to make a virtual flight around VVER-1200 NPP units, similar to the one designed for Paks.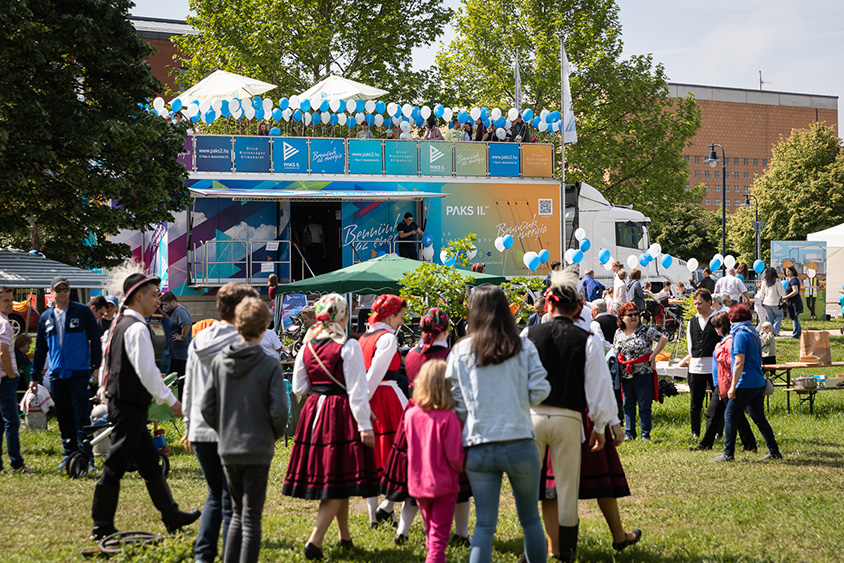 During the festivals the so-called Energy Island tent awaits the guests next to the truck. Here you can rest and relax on bean bags and hammocks, you can charge your mobile phones or you can play for prizes – for example with Activity or target shooting.