The interactive truck was popular in Paks as well
Halting its country road trip, the interactive information truck arrived to Paks for the Town Day. The interactive vehicle hosted more than 1500 visitors. The information tent of Paks II. presented itself at this event which – similar to the truck – awaited the visitors with several games and useful information.
The information truck of Paks II. visited the Town Day of Paks for the second time. There was a strong interest in the interactive exhibition, as it hosted more than 1500 visitors. The people who arrived to the Town Day could see the information tent of Paks II. for the very first time, where on the walls there are pictures of Hungarian nuclear scientists and the layout of the tent is of a hexagon, much like a fuel assembly of a nuclear power plant. The tent and the truck awaited the interested with several games and prizes. There were several novelties, for example the photo wall of Paks II. and the target-shooting game.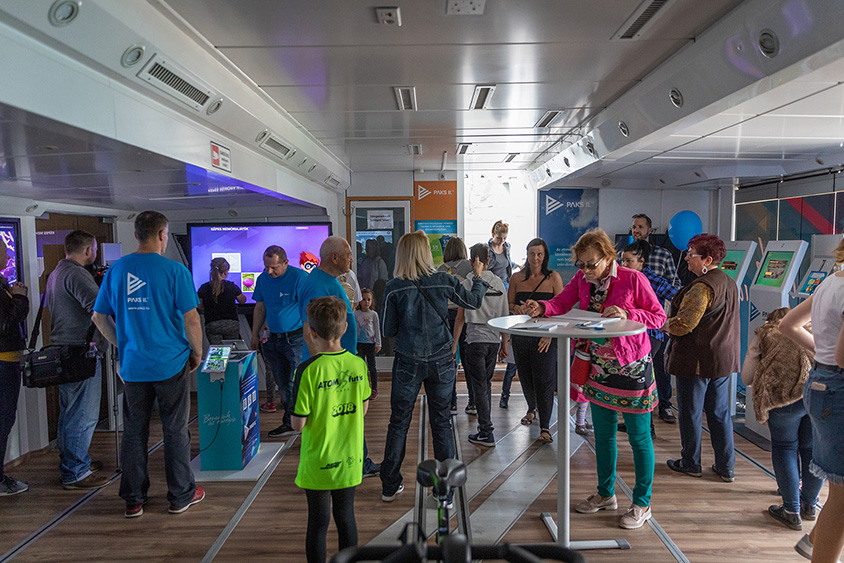 Those living in the region can meet the Paks II. information tent later, while the interactive truck continues its country round trip, which was started back on 25 March. The renewed, accessible interactive exhibition visits Komárom-Esztergom and Fejér counties in the spring, and in April – for the first time – it visited Construma. During summer the exhibition is going to attend eight big music and cultural festivals. The first is going to be VOLT, starting on 26 June.