More than half of the electricity produced in the European Union is carbon neutral
The European Union is increasingly performing in terms of climate-friendly electricity generation. Last year, CO2-free production approached 60%.
The Member States of the European Union are working together to reduce greenhouse gas emissions as much as possible and to switch production methods in each industry that have a positive effect on this process. According to the European Commission's decarbonisation strategy, the largest reduction in greenhouse gas emissions can be predicted in the electricity industry. The Member States' energy policies are adapting to this.
In 2019, the share of carbon-neutral electricity generation in the 28 Member States of the European Union was 57%. The largest source of carbon-neutral electricity was nuclear: 49% of cleanly generated electricity came from nuclear power plants. Nuclear power accounted for 28% of total electricity generation. Interestingly, Hungary, which operates a nuclear power plant, performed at almost the same level as Denmark, which does not use nuclear power generation, in terms of carbon neutrality.
From an environmental and climate protection point of view, it is also pleasing that last year 56% of the electricity generated in Hungary came from carbon-neutral sources, of which more than 90% was generated by the Paks Nuclear Power Plant. As previously reported, in April this year, the share of carbon-neutral electricity generation approached 85% in some periods, compared to 70,6% for the full month.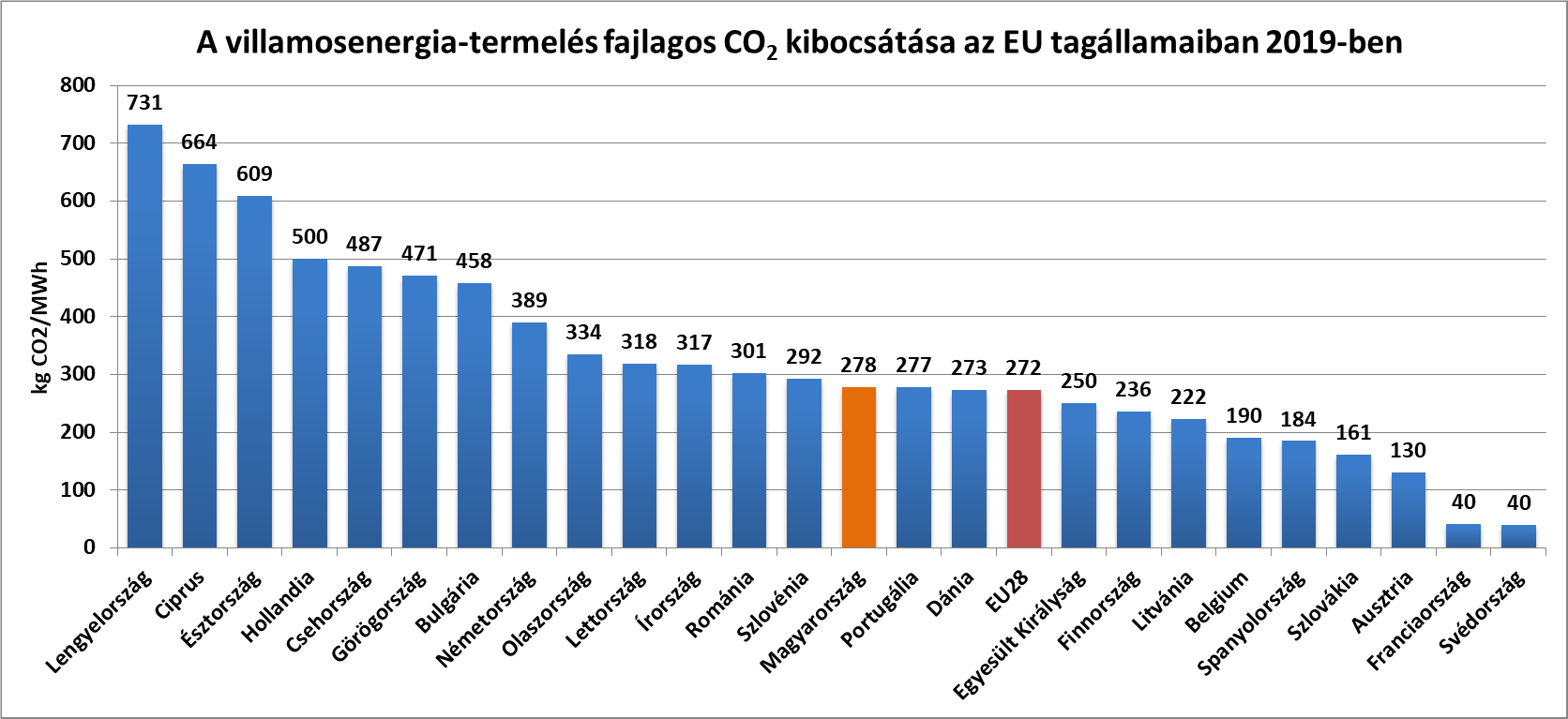 Among the EU Member States, Germany has the most wind and solar capacity, but fossil power plants often provide continuity of electricity supply due to fluctuating production of weather-dependent energy sources. Thus it may happen that the production of one MWh of electricity in Germany in 2019 was associated with 40% more CO2 emissions than in Hungary. Last year, Germany ranked the 28 Member States of the European Union in terms of CO2 emissions from the production of one MWh of electricity (starting with the most polluting one), which was the not so illustrious 8th place, while France - where almost 70% of electricity is produced carbon-free via nuclear power plants - tied with Sweden at the bottom of the list. They are the "cleanest" producers, meaning that these two countries emit the least CO2 per MWh of electricity generation.