The exploratory drillings has begun - Paks 2 EN
The exploratory drillings has begun
As part of the site investigation and evaluation program (necessary for the site license application), the first geological drilling of the Geological Research Program has started on 1 May 2015.
The "site investigation and evaluation program" and one of its parts, the "Geological Research Program" were finished – under the banner of the maintenance of the capacity of the Paks Nuclear Power Plant – which consist of the necessary investigations for the site licensing process and their evaulation. The Geological Research program is a complex investigative program which consists of geological, geotechnical, geophysical, seismical and hidrogeological researches, and once it is finished and evaulated, the planned site location's adequacy can be proved regarding the new nuclear units' construction.
Last year the so-called 3D seismic investigation was done as part of the Geological Research Program, which aimed to research the great-depth geological structure. Following this, 30 more exploratory drilling will be done to investigate the upper soil outside the prospective site. Next to the site 4 1500 m drillings, in the wider vicinity 4 700m drillings, 22 100-150m drillings, at the site 82 100-150m drillings will be done. While drilling, the soil's structure and composition will be researched, and geophysical and hidrogeological measurements will be done. Once the drillings and researches are finished, outside the site 5 smaller drill holes will hold an earthquake-monitoring system, while inside the site's drill holes will hold a hidrological monitoring system, and each will connect to the already existing earthquake and hidromonitoring systems, respectively.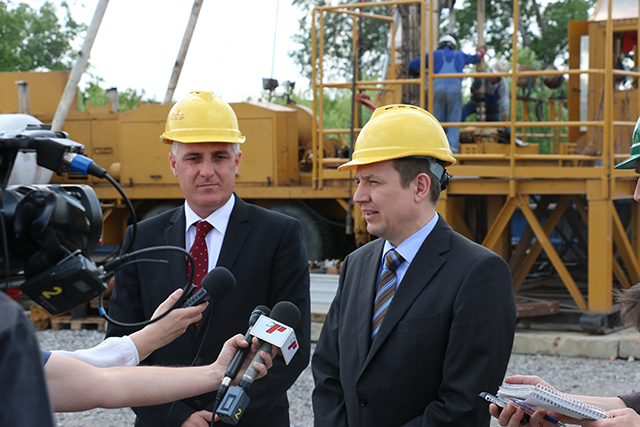 Dr. Attila Aszódi, the Government Commissioner responsible for the maintenance of the capacity of the Paks Nuclear Power Plant, has told after a 700m drilling's inspection near Németkor on 11 May 2015, the Geological Research Program's drilling activities started in May 2015, after a one month long preparation phase and the expected end date is mid-2016. After the local investigations are done, their results will be evaluated, and will be presented to the Hungarian Atomic Energy Authority along with other results of external dangers' investigation in order to have the site adequacy license.