Nuclear energy is an important tool in the fight against climate change - Paks 2 EN
Nuclear energy is an important tool in the fight against climate change
There are up to ten times the difference in CO2 emissions from producing one kilowatt hour of electricity among European countries.
European countries, relying on nuclear energy, generate electricity with specific low carbon emissions, according to ENTSO-E 2020 data. Examining the specific CO2 emissions of electricity generation in each state, it can be seen that the greenest countries in the category below 150 g / kWh, base their electricity generation on nuclear and / or hydropower. Four of the five leading countries (Switzerland, Sweden, France and Finland) rely heavily on the climate policy benefits of nuclear power generation. (Following Switzerland, the silver medalist Norway relies almost exclusively on hydropower.) So one of the important tools in the fight against climate change is nuclear energy.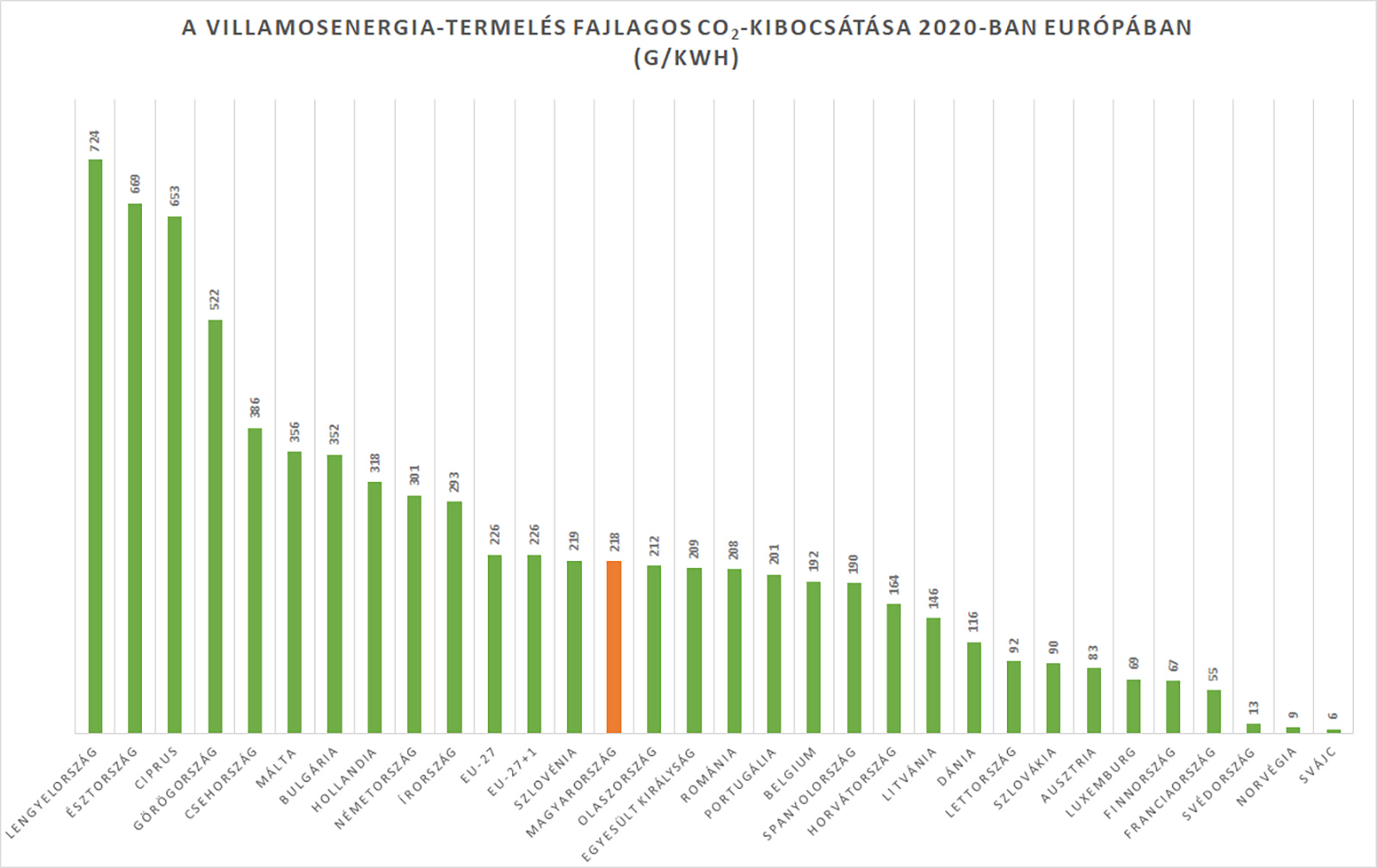 Belgium, for example, belongs to the second most favorable category, 151-300 g / kWh, in addition to Hungary, strongly relies on nuclear energy. In addition to the significant role of nuclear energy, the use of hydropower also contributes to the favorable specific emissions figures for Romania and Slovenia. The geographical location of Spain and the United Kingdom is ideal for the installation of wind farms, yet the benefits of nuclear energy for supply security have not been relinquished.
Almost all of the countries in the 301-450 g / kWh category have a significant role for coal in their electricity mix. This can be partially compensated by nuclear energy (for example in Bulgaria and the Czech Republic), or the use of renewable energy sources, or a combination of the two, as in Germany.
Almost all of the countries belonging to the most polluting emission categories (451-600 g / kWh and above 600 g / kWh) have a strong reliance on coal and hydrocarbons for their electricity generation and have a small role in their electricity mix, or it is completely devoid of nuclear and hydropower.
The figures show that in Germany, which encourages the strong use of renewable energy sources, the decommissioning of nuclear power plants is clearly slowing down the process of decarbonisation, as it will lead to a carbon-free electricity generator by downsizing nuclear capacity. This is the reason why German specific emissions exceeded the Hungarian value by almost 40% in 2020 as well.